Your Daily Recovery Supplement
Bix Recovery is formulated for optimal recovery after a workout. It is a daily recovery supplement designed to boost the recovery process with its 12 vitamins and minerals. It has zero sugar and contains only natural colours and flavours.

Made in Germany - the formulation is designed to maintain optimal hydration and maximises recovery after any workout.

Bix Recovery reduces muscle cramps, tension & stiffness and improves energy levels, muscle endurance and cardiovascular health.

Bix Recovery is developed by sports nutritionists and food scientists with the highest quality ingredients to provide you with the best hydration tablet on the market!

Each Tablet Contains:
Vitamin C - 200 mg
Magnesium - 150 mg
Sodium - 150 mg

BCAA's - 100 mg

Bromelain - 100 mg

Calcium - 50 mg
Potassium - 50 mg

Zinc - 10 mg

Vitamin E - 10 mg

Q10 - 3 mg

Iron - 2.5 mg

B12 - 3 mcg
Active and inactive ingredients:
Acid citric acid, magnesium carbonate, sodium hydrogen carbonate, acid malic acid, humectant sorbitol, L-ascorbic acid, vitamin C, inulin, potassium hydrogen carbonate, BCAA's (L Leucine, L Valine, L Isoleucine), bromelain powder, DL-α-tocopheryl acetate, vitamin E, calcium carbonate, tricalcium phosphate, sucralose, zinc citrate , ferrous gluconate, red beet juice powder, colour algal carotenes, coenzyme Q10, sodium selenate.
Daily Recovery Supplement - Bix Recovery is a daily recovery supplement that supports your body's hydration and vitamin needs on busy working days and in hot or humid environments. For best results consume one tablet of Bix in water within 15min of finishing your workout or during busy working days.
Optimal Performance -
For optimal performance consume one tablet of Bix in water every 60 minutes during workouts.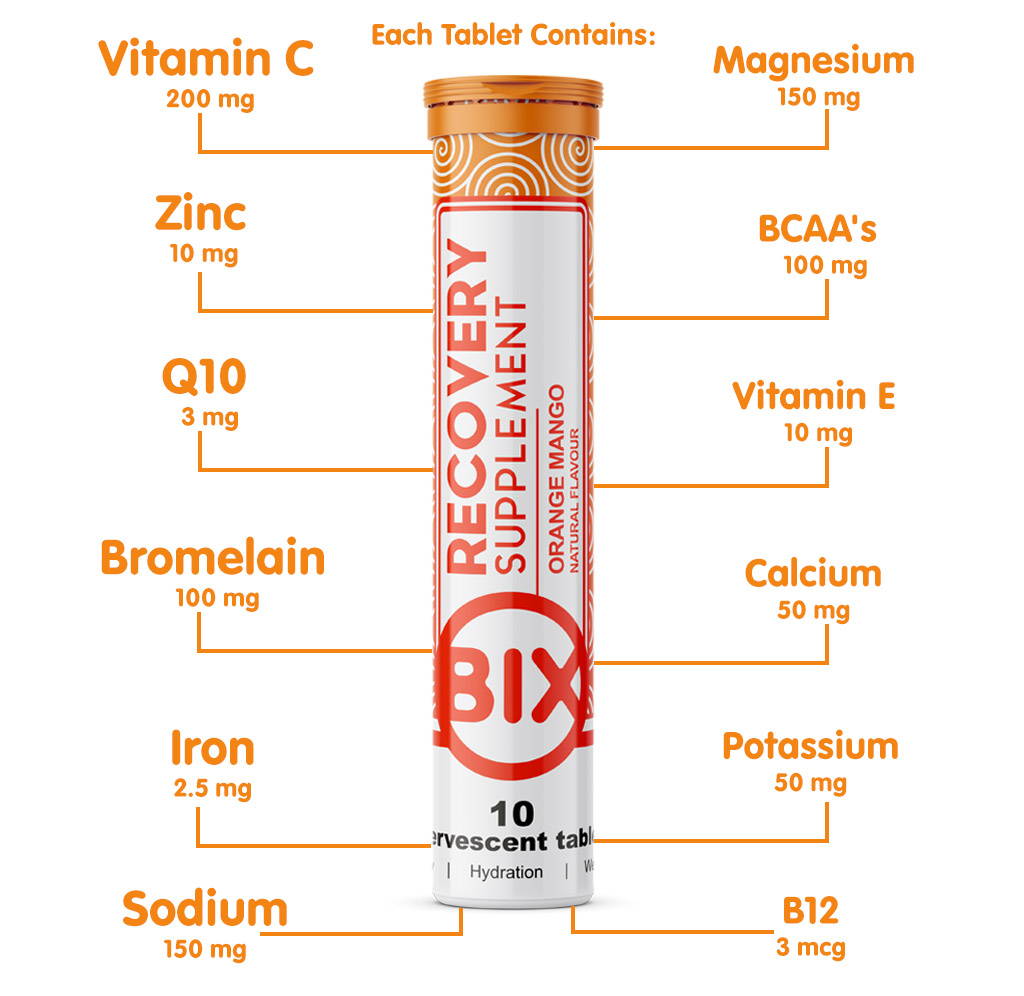 All Bix products are certified non-GMO, gluten free, dairy free and vegan.